Enter the reserved area
Enter Email and Password provided during registration to the site.
Olfactive profile featured by sharp and elegant traits presenting evident flavours of ripe tomatoes, artichokes and herbs. In the aftertaste it offers delicate smells of almond and sage.
When tasted, the results are definitely soft, in its harmonious structure which perfectly describes the bitter-piquant balance. In the end of the tasting you are embraced by a sensation of fruit and pistachio.
Arkè Organic
Arkè Bio is a single variety extra virgin olive oil produced from "Moresca" olives and it represents Arkè's diamond point. It's cultivated in reddish, ferrous, sandy soils that give elegant and excellently balanced flavours. It is obtained from organic farming of olive groves without using harmful chemicals (fertilizers, pesticides, insecticides, etc) fully respecting the environment and the health of the consumer. For this reason we incorporate natural fertilizer, seeding fava beans between the rows of plants and digging them into the soil as green compost.
Certified by ICEA - Environmental and Ethical Certification Institute.

Data Sheet
Variety:
Moresca 100% from ORGANIC FARM.
Production Area:
San Cataldo, Pietraperzia, Barrafranca (central Sicily).
Harvest:
Hand-picking mid-way through the ripening period in order to preserve and exalt the antioxidant and aromatic characteristics, from October 10th to November 15th.
Crushing:
Continuous cycle cold-milling process within 12 hours from the harvest.
Storage:
Natural settling (without filtering) in steel silos in storage room with temperature monitoring (18°C).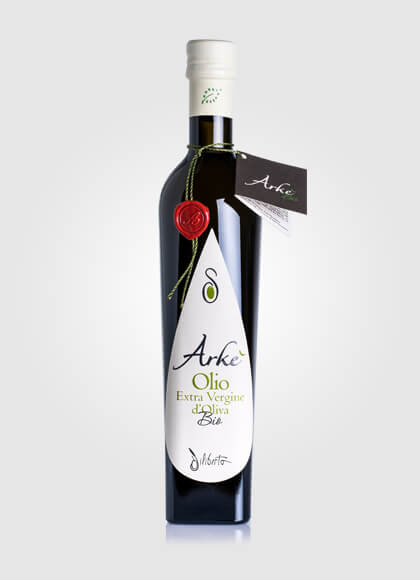 Order Online
Arkè Organic
Delicious with a simpe Sicilian salad of oranges and fennel. It would be the characterizing element of a fish couscous or a traditional dish like sarde a beccafico.
Size
Selected size: Bottle 0,75 l
Retro label
0,75 l - 0,50 l - 0,25 l - 2 l - 5 l
Order
Order
Do you prefer to order by phone? Contact us
All Products